More than 40 years of effort
to achieve
submicrometer accuracy
Our main businesses are the precision machining of the automobile, robotics, electronic SMT mounter, medical, gear, and machinery parts. We are capable of any orders from Prototype, Single piece, High-mix & Low-volume to Mass-production parts with one-stop solution by our optimized production system and thorough quality management system. We also focus our effort on the complicated system assembly of precision parts to meet a wide range of our customers' needs. We are fully equipped with engineering and manufacturing skills to fulfil our customers' request and to achieve our customers' QCD goals.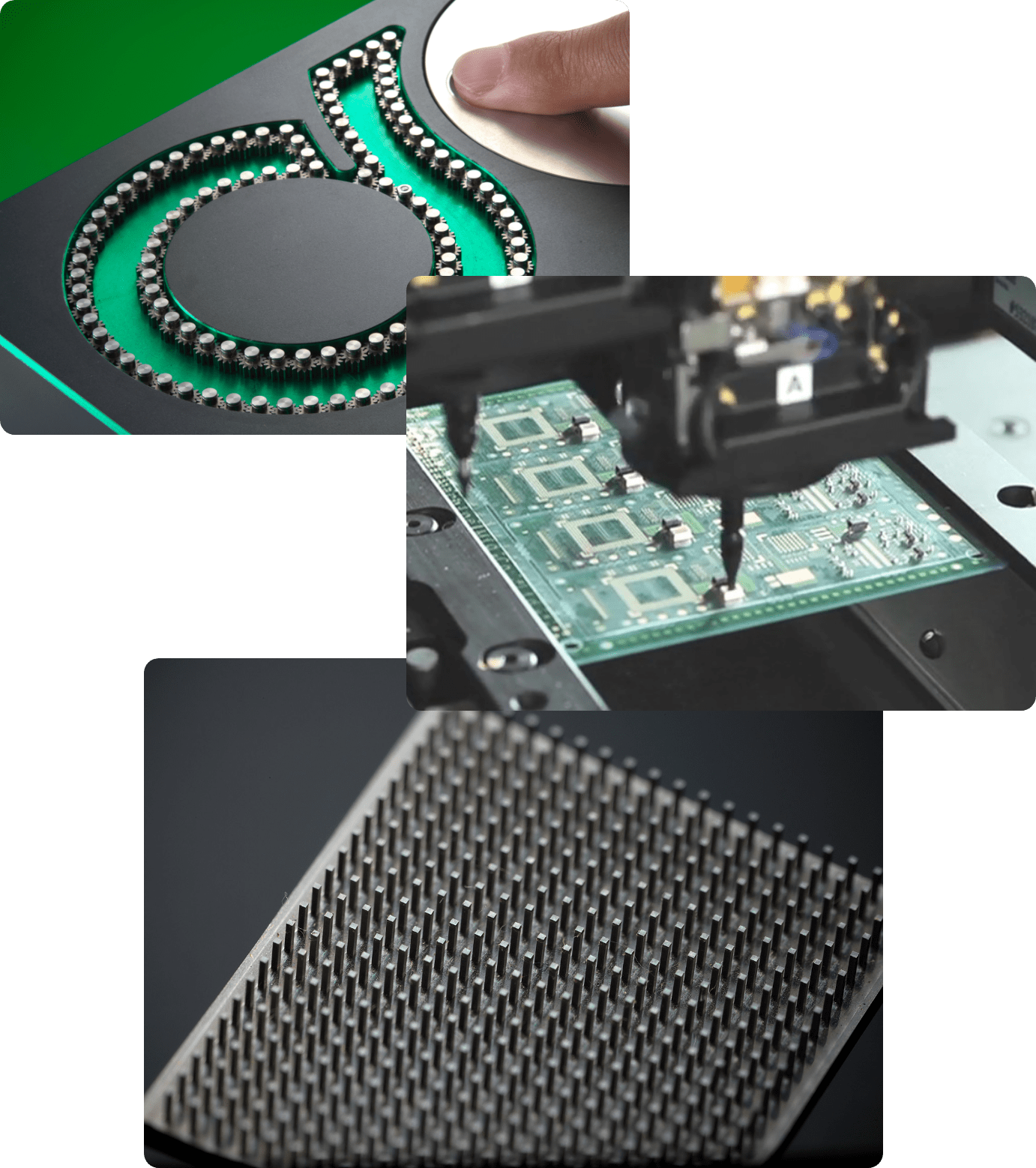 Industries Served
SMT mounter

Medical

Robotics

Automobile
Technology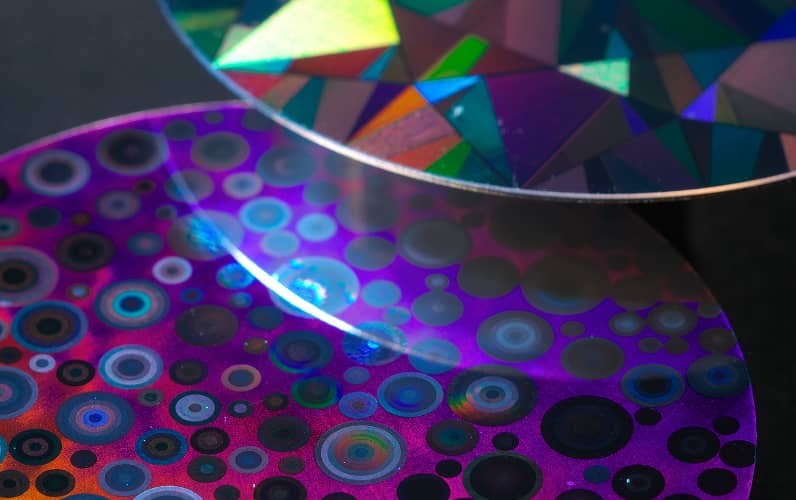 LASER TECHNOLOGY
Based on the laser microfabrication technology, we propose the less heat effect functionality addition on the metal surfaces by using short pulse lasers. For example, our technology can implement non-reflective black surface without applying paint or chemicals, rust removal, antibacterial effects, water repellent effects, and stained glass-like color effect, etc.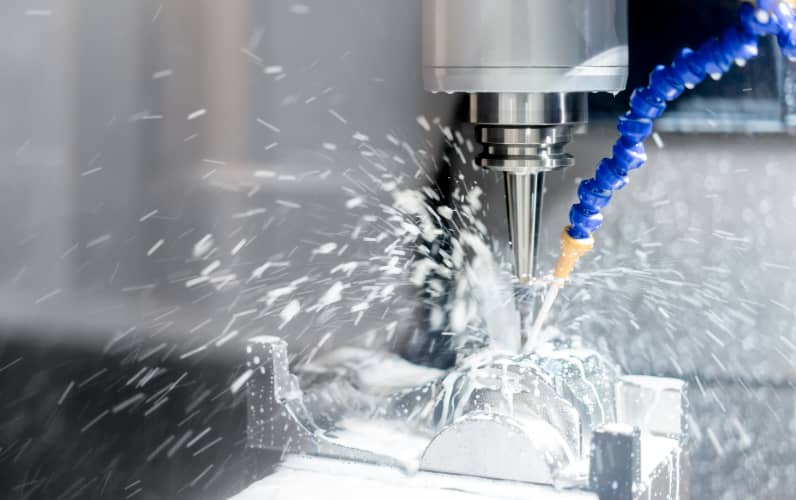 MILLING/TURNING TECHNOLOGY
Our milling/turning technology focuses on the small parts, light weight parts, hardened parts, and high precision parts featuring the complicated shapes, multifaceted shapes, and difficult-to-cut-materials with tight geometrical tolerances by utilizing 5-axis MCs, Automatic lathes, and Multi-axis machines, etc.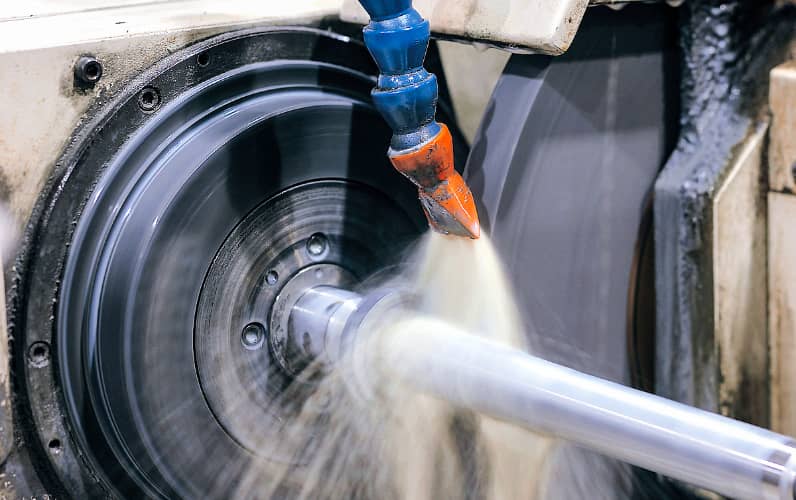 Grinding Technology
Our main business started with precision grinding. Over 40 years, our strength has been demonstrated by precision grinding of easily distorted parts such as thin/slender parts with strict tolerances by utilizing Cylindrical Grinders, Inner Grinders, and Surface Grinders. We can also solve all of our customers' problems by utilizing distinctive equipment such as Jig Grinders, Tool Grinders, and Centerless Grinders, etc.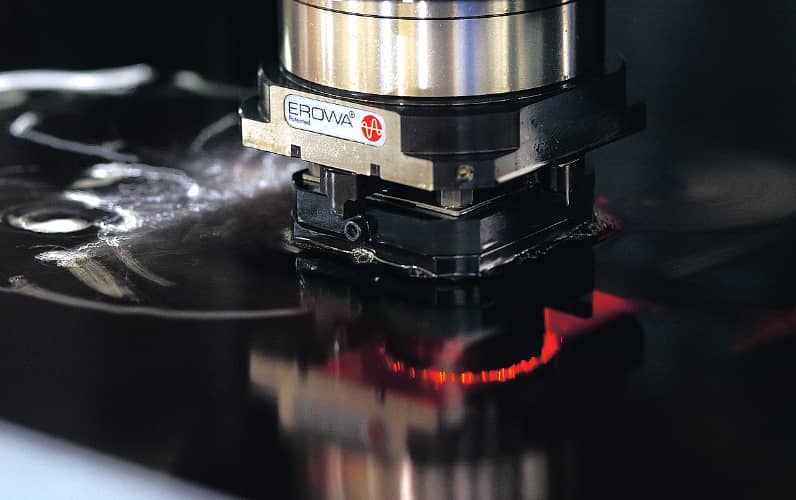 EDM Technology
Using our know-how and cultivated technology, successful application of wire-cut and die-sinker electrical-discharge machining (EDM) on the machining of parts has been demonstrated. More difficult shapes, precision, and machining on difficult-to-cut materials can be achieved by using our EDM, in addition to other traditional machining process.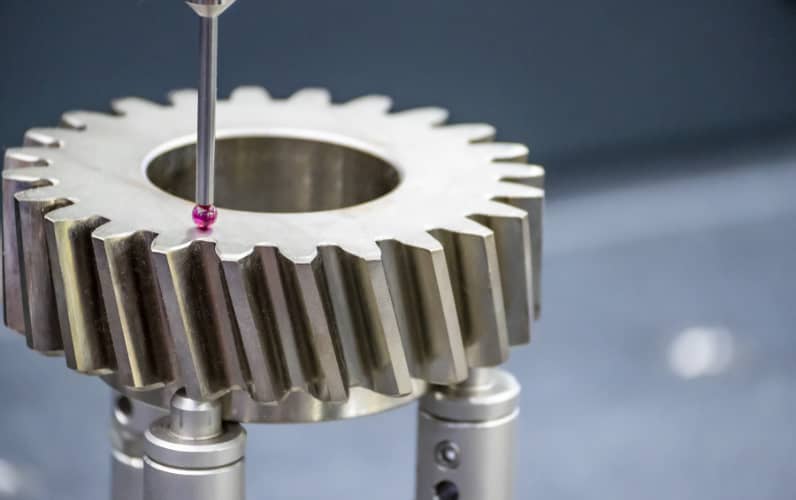 Measuring Technology
Precisely machined parts demonstrate their performance after they are precisely measured. We are fully equipped with various precision measuring instruments such as CMM, Contour Measuring Machines, Optical Profilers, etc. We are also equipped with SEM and EDX for analysis of surface textures and constituent elements. Further, we have introduced an X-ray CT Scanning Machine to reduce lead time while ensuring measurement quality.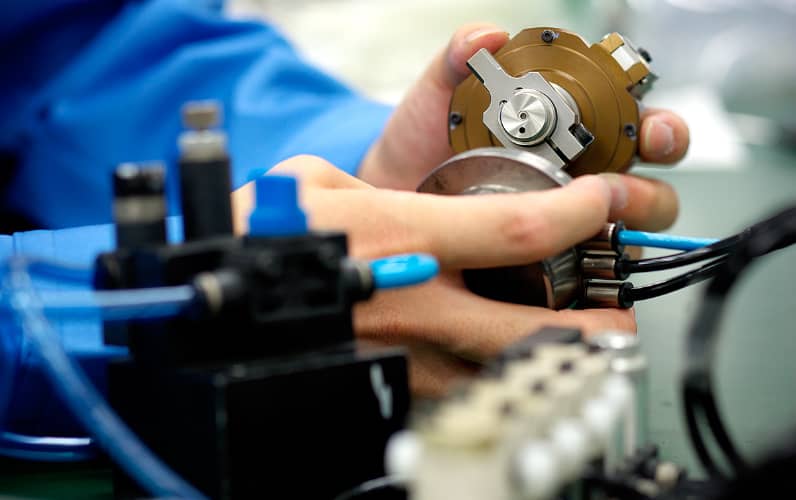 Assembly Technology
Precisely machined components must be precisely assembled as a device to fully exhibit its performance. We do not only machine the parts but also assemble these parts and do the function tests of the assembled devices, which we believe contributes to our customers' benefits. We also enhance the assembly work automation for the advancement of the accuracy assurance and lead time reduction.
Main equipment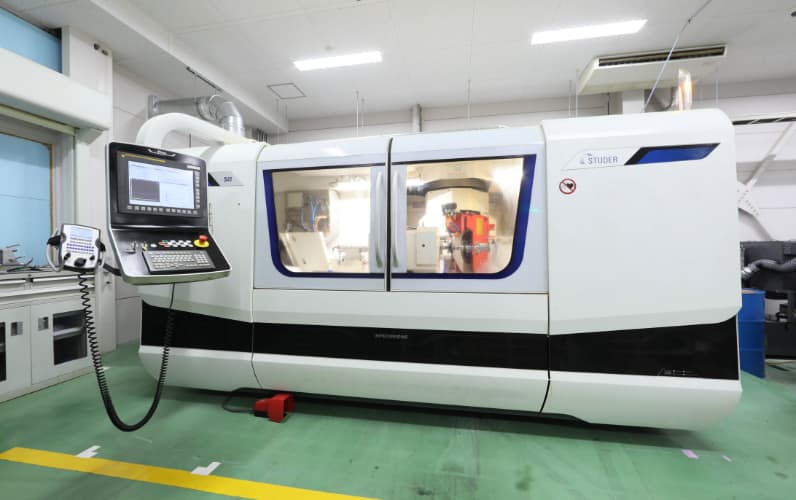 STUDER Universal Grinder
s41-1000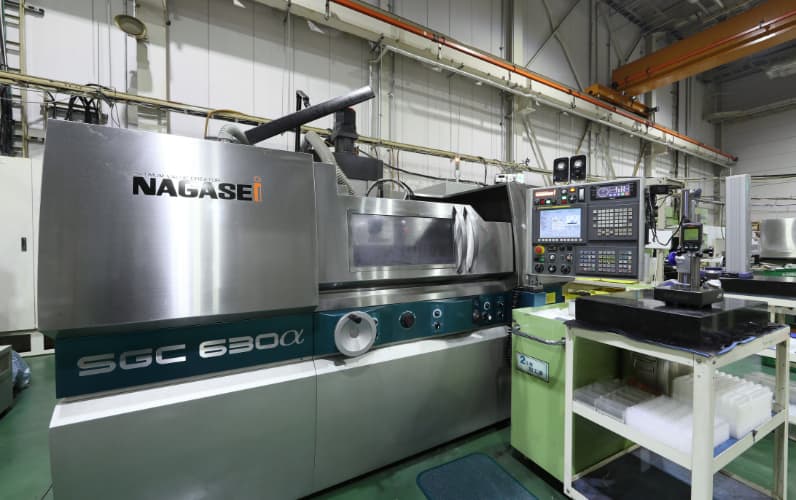 NAGASE INTEGREX Surface Grinder
SGC-630αS4-ZERO4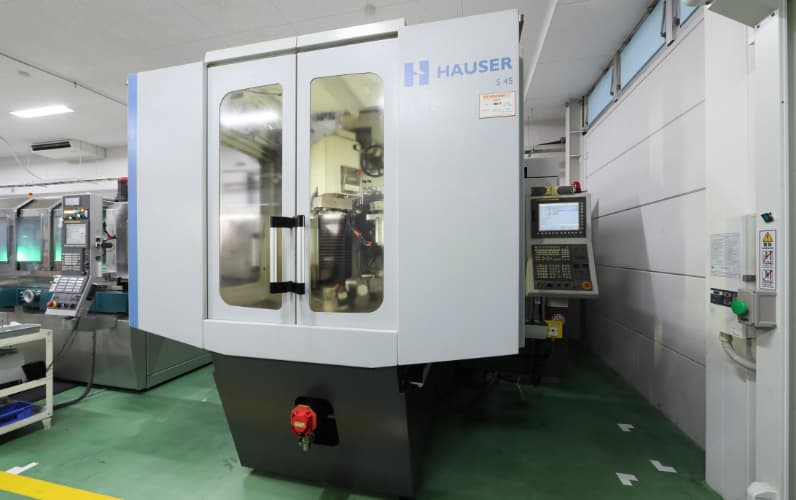 HAUSER Jig Grinder
S45-400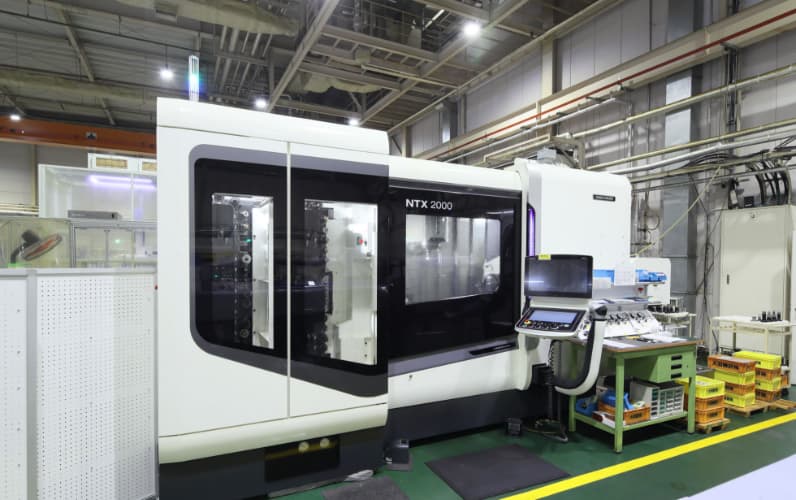 DMG MORI Multi-axis Mill Turn center
NTX2000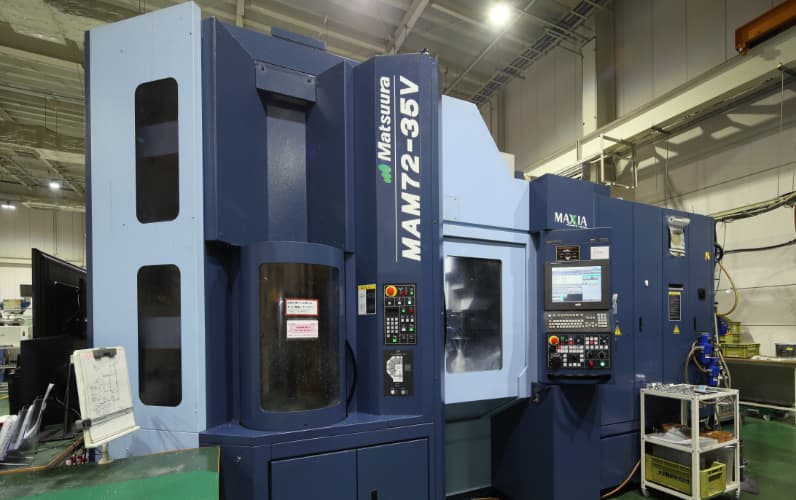 Matsuura 5-axis Machining Center
MAM72-35V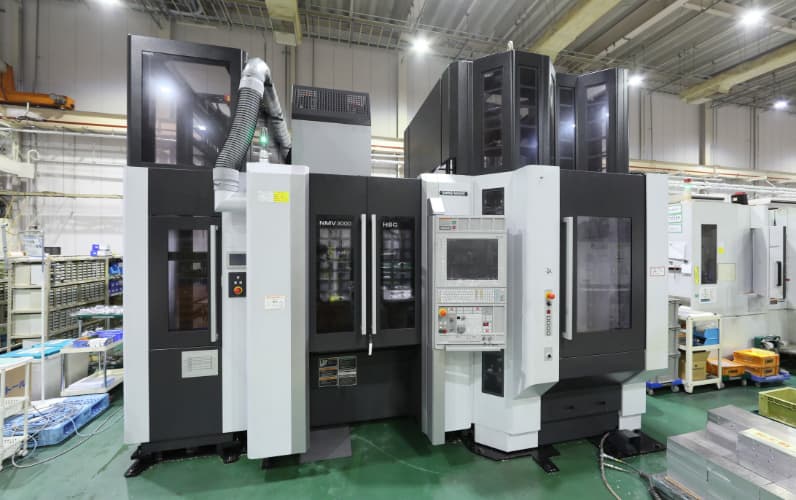 DMG MORI 5-axis Machining Center
NMV3000 DCG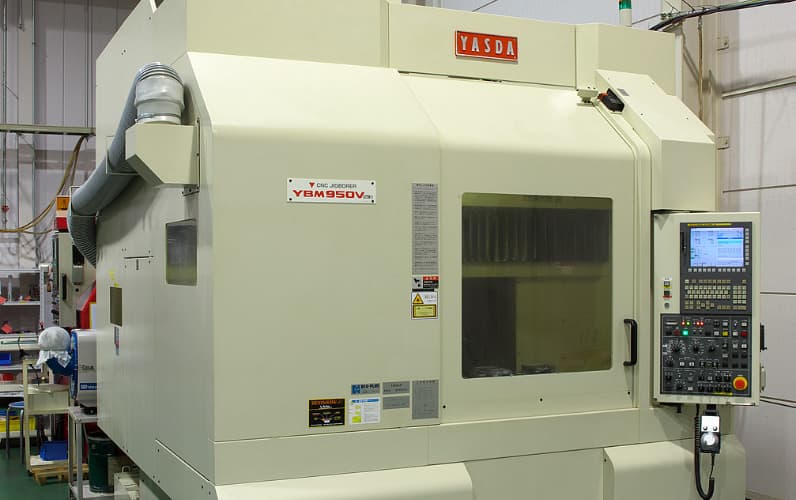 YASDA Vertical Machining Center
YBM-950V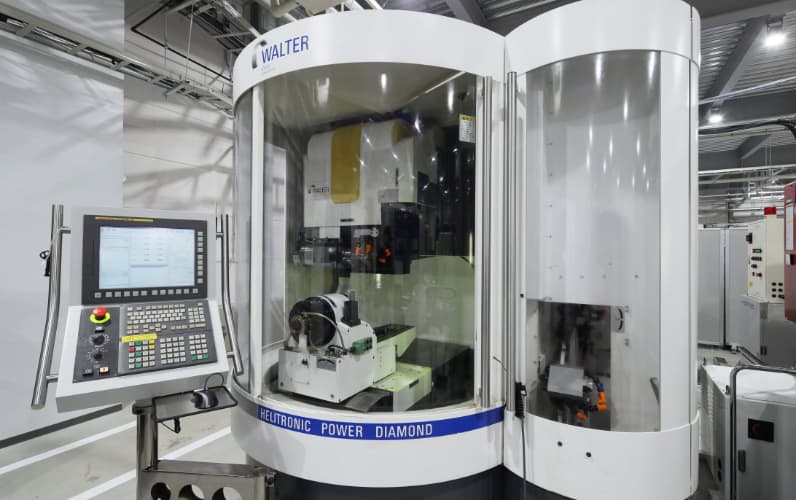 WALTER Tool Grinder
HELITRONIC POWER-W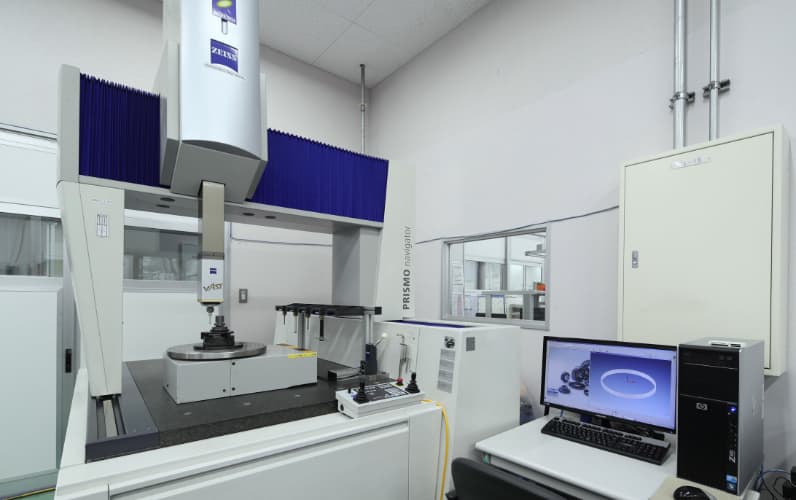 Carl Zeiss CMM
PRISMO Navigator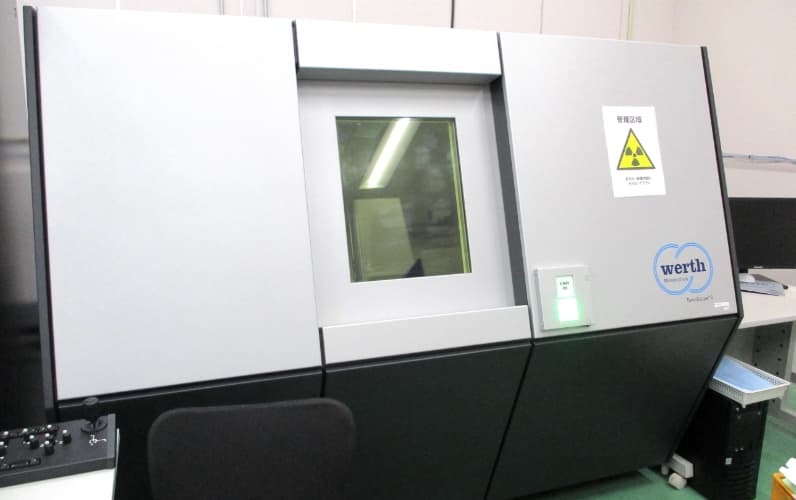 Werth X-ray CT Scanner
TomoScope S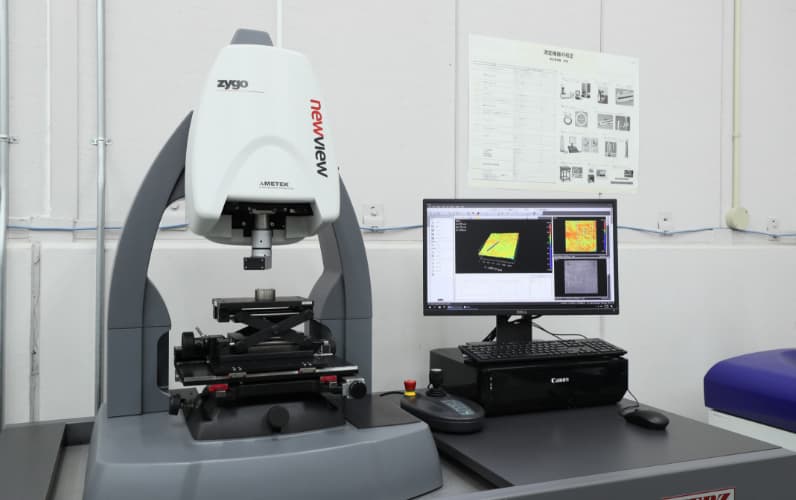 ZYGO 3D Optical Profiler
New View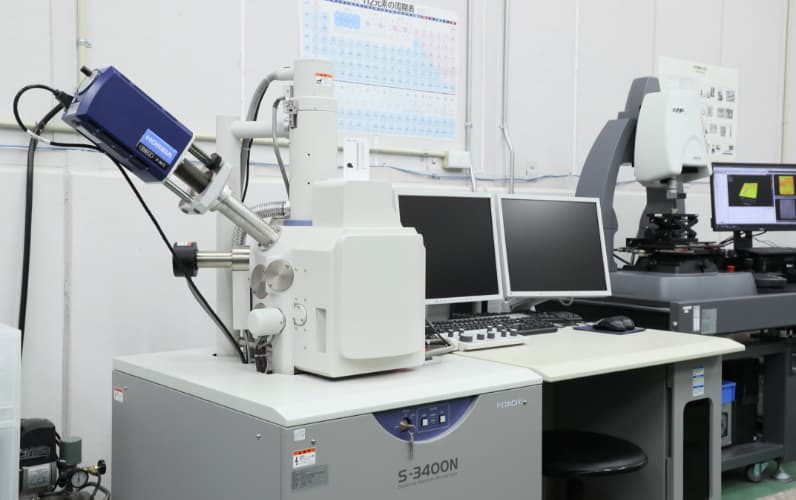 Hitachi Scanning Electron Microscope
S-3400N
Gallery
Laser micro cut parts assembly sample
Material :

AISI 304

Size :

1.5mm

Features :

Assembled from 9 thin plates
Laser micro cut characters and logo
Material :

AISI 304

Size :

0.12mm / Thickness 0.02mm

Features :

0.025mm width at the narrowest part
Laser micro decoration sample
Material :

AISI 304, NSS431DP-2, etc.

Features :

Stained glass-like color effect
Planetary gear assembly
Material :

AISI 420 and acrylic resin

Size :

φ77mm

Features :

Assembled from over 70 parts

Process :

Gear grinding, EDM, Laser machining, Assembly, etc.
Small & silent gear grinding sample
Material :

AISI 420, 440C, etc.

Size :

≥ Module 0.15 plain gear

Features :

Improve the accuracy and strength, and to reduce noises

Process :

Gear grinding
Gear integrated slide shaft
Material :

AISI 440C

Size :

φ5mm x 80mm / Module 0.15 plain gear

Accuracy :

Tolerance ≤ 1μm / Straightness ≤ 1μm / Roundness ≤ 1μm

Process :

Gear grinding, Centerless grinding, Assembly, etc.
Polygon grinding sample
Material :

AISI 420

Size :

φ30mm x 80mm

Accuracy :

Eccentricity ≤ ±5μm / Cam profile ≤ 0.03mm

Process :

Cylindrical grinding
Carrier
Material :

AISI 440C

Size :

φ75mm

Accuracy :

Tolerance ≤ 3μm / Position ≤ 2.5μm

Process :

Jig grinding
Transmission case
Material :

Magnesium alloy

Features :

Light weight and high damping capacity

Process :

5-axis machining
Carbide probe
Material :

Micro-graincemented carbide(SA220)

Size :

Tip diameter φ6μm

Process :

Tool grinding
Formed tools
Material :

Carbide, CBN, HSS, Ceramics, etc.

Size :

≥ φ0.025mm

Features :

For complex holes, inner grooves, etc.

Process :

Tool grinding
X-ray CT scan measurement sample
Load capacity of the equipment :

≤ 15kg
Position resolution :

0.1μm
Features :

Actual dimension measurement and CAD comparison measurement

Process :

X-ray CT Scan


ABOUT US
Company Name

OHBA SEIKEN Co., Ltd.

Foundation

April 1973

Capital

30million JPY

Representative

Chief Executive Officer - Takumi Fujii

Address

170 Aza-Fukazawa, Terasawa-cho,
Toyohashi-shi, Aichi 441-3124, Japan

Number of Employees

253 (as of March 31, 2020)

E-mail

y-mori@ohba-seiken.co.jp
QUALITY MANAGEMENT
We are ISO9001:2015 & ISO13485:2016 certified.
Not to mention in-coming and pre-shipment inspection, we thoroughly control the working environment and thoroughly perform the in-process inspection in order to establish quality of the product, accuracy of the machine, and skills of our team members.
For each order, production control document (Process chart and production drawings) is prepared for the production identification and the process traceability purpose. In-process inspection records at each process and final inspection records are stored together with the production control document at the completion of all process.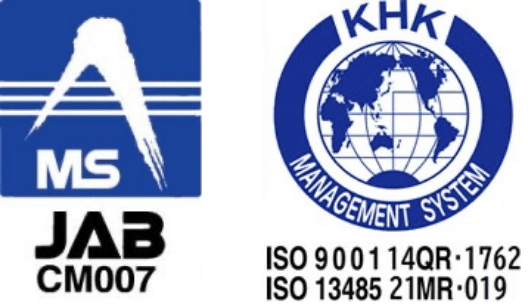 FAQ
Production Lot
What is your production capacity?
From one trial parts to mass production 100,000 parts/month
Quote/Budget
How long does it normally take to respond to RFQ?
Trial parts : We will response within 24 hours
Production parts : Please feel free to ask us.
I don't have any drawings but I'd like to have a rough quote.
Any description about the parts (Sketches, sizes, etc.) is ok for us to prepare quote.
I have a limited budget for procurement.
We can offer proposal to meet your budget.
Lead Time
What is your standard lead time?
Machining : 1 or 2 weeks after PO.
Machining + Grinding + Heat treatment : 3 or 4 weeks after PO.
Materials
What materials are applicable?
Stainless steel 420, 440, 316L, 303, etc.
Aluminum alloy A2017, A5052, A6061, etc.
Chrome molybdenum steel 4115, 4120, 4135, etc.
Bearing steel, Die steel, Tool steel, Carbon steel, Alloy steel, etc.
Pure titanium, Titanium alloy, Superhard alloy, Carbide, Zirconia, Magnesium alloy,
PEEK resin, Polyacetal resin, etc.
Are medical grade materials applicable?
Just please let us know the material specification.
Are ASTM materials applicable?
Just please let us know the material specification.
Capability
What kind of machining you can do?
Milling : Simultaneous 5-axis, high-speed, off-axis parabolic, contouring/profiling, slender holes, etc.
Lathe : Turning, end face, flat face, 5-axis, etc.
Non-grinding machining, drilling, tapping, gear cutting, gear skiving, EDM (Micro-holes, slit, inner gear)
What kind of grinding you can do?
ID/OD grinding, gear grinding, taper grinding (Minimum φ0.001" tip dia.)
Non-cylindrical grinding (Polygon, cam, etc.)
Surface grinding, center-less grinding, 5-axis grinding
Applicable shapes?
Any complicated shapes are ok.
I need small thread screws or non-standard threads screws.
We have experience with S0.6 threads. In case if the thread specification is unknown, just please ask us, we can measure the parts with our device and can distinguish it. If the applicable tool is not found, we can prepare "home-made" threading tools.
Applicable sizes?
Milling/EDM : up to 11.8"x11.8"x11.8" for blocks, up to 23.5"x15.7" for plates, holes from φ0.0012"(depth up to 10D)
Lathe : up to φ7.8"x15.7"
OD grinding : φ0.04" to φ11.8" (Length up to 19.7")
ID grinding : φ0.04" to φ7.8" (Length up to 7D)
Surface grinding : up to 23.5"x15.7"
Gears : from m0.15
Can you do any surface treatment or heat treatment?
Quenching, Tempering, Carburizing, Nitriding, Plating, Anodizing, Chrome plating, Painting, Laser marking, etc.
How about polishing and finishing?
Aero lapping, Iepco treatment, Barrel polishing, Honing, Lapping, Electro chemical deburring, Electrolytic polishing, etc.
Other applicable manufacturing process?
Assembly, press-fit, Automation, etc.